The MBDi Business Development methodology includes the proprietary MBDi Business Development Process® which is based on the 12 Core Competencies. These competencies developed over the past 30 years are evident in all high performing business development professionals. The individuals leverage these competencies to understand both themselves and the client from a conceptual and mechanical perspective. MBDi training is often utilized to lead BD culture change within organizations. We subscribe to the adage that training is not effective unless you change behavior and you cannot change behavior unless you change thinking.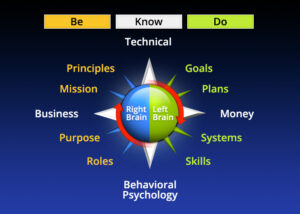 From a mechanical perspective, MBDi has identified and developed both a robust business development (business acquisition process) and Client Engagement Process. The MBDi HUMINT® Client Engagement Process is utilized to engage customers in a proactive, consultative approach which establishes trust and allows for the gathering of HUMINT (human intelligence) which supports the entire Business Acquisition Process. Engaging clients in this manner generally results in long-term, win/win business relationships.

During the early phases of the acquisition process where the focus is on Opportunity Identification & Qualification, the MBDi (OI&Q)i Phase leads personnel in developing strategies to gather and shape opportunities pre-RFP. The analyzed intelligence is utilized to make informed business decisions on declining or pursuing opportunities based on verifiable facts, not emotions.

The development of a cohesive revenue generating organization, through the integration of process, plans and personnel with the requisite change in culture, does not come quickly or easily. Results are dependent on identifying prospective issues and addressing them in a timely manner. Issues vary, but generally include the development of unified objectives, plans and goals. Documentation and implementation of proactive opportunity identification & qualification, capture and proposal processes and methodology provide the discipline and structure to those in revenue generating positions.